Tandem paragliding flight for a group, company outing
paragliding outing, an unforgettable memory for:
– Groups
– Company exits
– Bachelorette parties
– Life burials of
– Family outings
Table and bench as well as gas grill are available for groups, on company outings, who wish to organize a barbecue or an aperitif before or after the flight on the landing site.
You will be able to enjoy watching your friends during their paragliding flights and seeing them evolve from take-off to landing right next to you.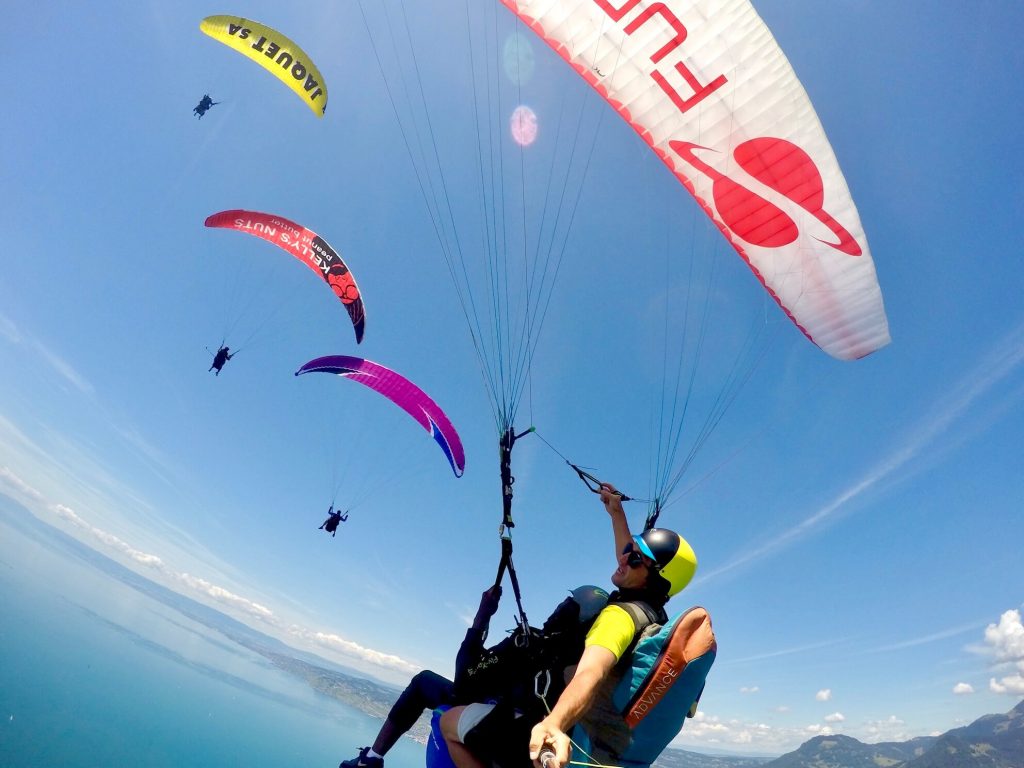 The pilot can take a bottle of champagne to open for you in mid-flight!
An unforgettable memory for a bachelorette party or a bachelorette party.
Send me your wishes and I will be happy to organize your à la carte corporate outing by best fulfilling your wishes.
info@fly-xperience.com
Take-off: Sonchaux (1430m / 4700ft)
Landing: Villeneuve (375m / 1230ft)
Elevation: 1055m / 3470ft
Flight duration: 15-25 minutes (depending on weather conditions)
Total time *: 1h15 minutes * Including the climb to the take-off site and the flight of about 20 minutes
Meeting point: Villeneuve, VD Switzerland
Price:
CHF 145.- / pers. from 5 people
CHF 40.- / pers. Photos / Videos
Option, 360 ° photo New GoPro
* transferred to your mobile phone or SD card
CHF 170.- Flight from Sonchaux
CHF 145.- Student on presentation of the card
CHF 130.- Child aged 5-16
CHF 40.- Photo and film options
– 7 DAYS ON 7 –
10 a.m. / 11.30 a.m. / 1 p.m. /
2:30 p.m. / 4:00 p.m. / 5:30 p.m.
The two-seater paraglider for whom?
– No special physical skills required
– Anyone from 4 to 104 years old and from 20 to 120 kg
– Children from 5 years old
– There is no vertigo, because you have no contact with the ground
Meeting & progress of the tandem paragliding flight
More information on this page.
Bachelorette party in a tandem paraglider
Guaranteed atmosphere. Possibility for all participants to make the tandem paragliding flight. Souvenir video. Champagne in flight. Acrobatics for people who want it. Barbecue / aperitif at the end of the flight. We provide a tailor-made service for an exceptional day.
Company outing & tandem paragliding
Ideal for strengthening team building. Your employees do not know each other well? This outing will help forge links between the members of the different teams. Possibility to organize an aperitif next to the airstrip. There is no age or physical condition limit for a tandem paraglider flight. On request, we organize a guided tour in the vineyards after the flight.
Tandem paragliding student outing
Are you organizing an outing for your class? Think about a paragliding trip. No need to go far to be completely disoriented. It is enough to start "high". A tandem paragliding flight at an altitude of 1,000 meters above Lake Geneva with certified professionals from the branch is a unique and educational experience.
Discover
You will surely like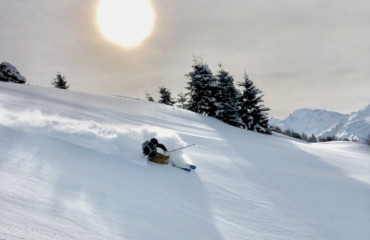 01
Ski instructor and paragliding instructor, I offer professional support to help you progress whether you are a beginner or a good skier.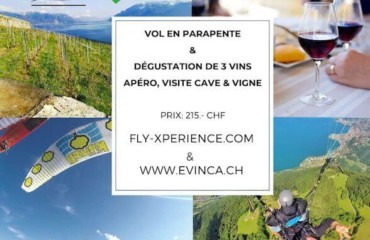 02
Tandem paragliding flight
cellar and vineyard visit
Tasting of 3 wines and aperitif
03
Benefit from a reduction of CHF 25.- upon presentation of the student card.