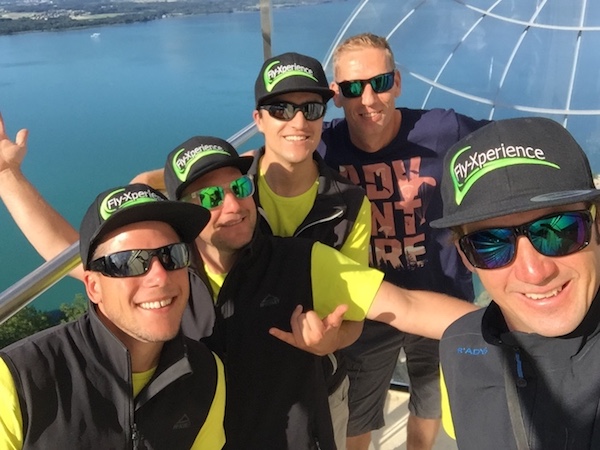 Passionate about sliding sports, I have always been attracted by the possibilities offered by Switzerland in terms of infrastructure and landscapes to fulfill my two passions which are Free flight & Skiing.
In 2010, I founded the Fly-Xperience company in order to share my passions for free flight with a varied clientele looking for fun and sensations, all in the unique landscape of the Riviera.
The specialized structure for tandem paragliding flights is made up of professional and FSVL and OFAC certified pilots who are all passionate and eager to make the experience and discovery of our sport unforgettable.
Compliant and certified equipment
A bus with driver, equipment compliant and certified to the required standards and a practical booking platform are the tools available to organize the activity in the best conditions.
Spend a good time with family, colleagues or friends, combining fun, relaxation and discovery with a motivated and dynamic team.
Myself and my whole team look forward to meeting you in order to spend a moment of fun and sharing in one of the idyllic settings offered by Switzerland.
You will leave with your head and eyes filled with beautiful emotions and a unique memory of your adventure in the air.
Goodbye.
Fabien
1999 – Solo paraglider pilot
2002 – Professional tandem paraglider pilot FSVL & OFAC
2007 – Swiss Paragliding Instructor FSVL & OFAC
2011  –  Mini wing Instructor
2012  – Emergency parachute packer for paragliders
2012  – 2022 Continuing education and CP with FSVL
Professional paragliding experiences
– Paragliding instructor and tandem pilot in different structures (Jura, Vaud, Valais)
– Test pilot, para-test.com, Villeneuve (Alain Zoller, founder)
– Travel organizer (Morocco, Turkey, Macedonia, France, South Africa)
– Tandem pilot for exhibitions during the Red Bull Vertigo, Sonchaux Acro Show, Montreux Jazz Festival, Sky Water Show
– Support for journalists for discovery flights
2004 – J+Sport snowboard qualification
2007 – Qualification Swiss Snow Sport variants and avalanches
2007 – Qualification Swiss Snow Sport Module 3 SKI PRO
2012 – Federal Certificate (CFC) Snow Sports Instructor
2012 – 2022 Continuing Education and S.S.S.
Professional experience Ski instructor
2003-2008 – Ski instructor for a Swiss school in Verbier
2008-2022 – Independent ski instructor in Verbier