New / Price for families: CHF 130 / child
Children ages 5 and up can enjoy the activity and have this experience with an attentive and professional team and equipment suitable for small sizes.
Parental approval is essential and must be presented prior to the flight. It can also be signed on site at the time of payment.
Start: Sonchaux (1430 m)
Landing: Villeneuve (375 m)
Elevation: 1055 m
Flight time: 15-20 minutes (depending on weather conditions)
Total duration *: 1h15 minutes * Including ascent to the launch site and paragliding flight of around 20 minutes
Meeting point: Villeneuve, VD Switzerland
CHF 170.- flight from Sonchaux
CHF 145.- student upon presentation of the card
CHF 130.- child aged 5-16 years
CHF 40.- Photo and film options
– 7 days out of 7 –
10 a.m. / 11.30 a.m. / 1 p.m. /
2:30 p.m. / 4:00 p.m. / 5:30 p.m.
The two-seater paraglider for whom?
– No special physical skills required
– Persons between 4 and 104 years and between 20 and 120 kg
– Children from 5 years
– There is no dizziness because you are not on the ground
Meet & progress of tandem paragliding flight
More information on this page.
Why a tandem paragliding flight?
A tandem paragliding flight is a unique and powerful experience. Take your first flight in a paraglider and discover the Lake Geneva region like you've never seen it before. Fly 1000 meters above Lake Geneva.
Offer a tandem paragliding flight! Gift voucher for paragliding flight.
Why Paragliding in Villeneuve?
The Villeneuve region (paragliding flight in summer) is a region with an extraordinary panorama. With a naturally sunny climate and a microclimate specific to the Montreux region.
During the flight you will also have an exceptional view of Lavaux, a UNESCO World Heritage Site, and of Chillon Castle.
A MOB day and a tandem paragliding flight?
Make a MOB and paragliding day (Montreux-Berner Oberland – Zug Pays d'Enhaut) with a paragliding stop. 10 minutes by bus from Montreux separate you from the meeting point at the station square in Villeneuve. Our pilots will pick you up from the train station / bus stop to take you to the airfield. And you will discover the region from a tandem paraglider.
Discover
You will surely like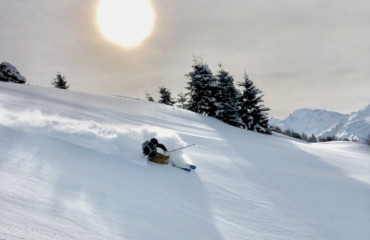 01
Ski instructor and paragliding instructor, I offer professional support to help you progress whether you are a beginner or a good skier.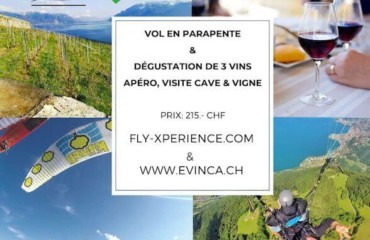 02
Tandem paragliding flight
cellar and vineyard visit
Tasting of 3 wines and aperitif
03
Benefit from a reduction of CHF 25.- upon presentation of the student card.