Tandem paragliding flight Montreux, Villeneuve
Tandem paragliding flight over Lake Geneva and the Vaud Riviera, between Montreux and Villeneuve, with a flight over the Château de Chillon.
The experience is unforgettable and the view from takeoff is totally unique in the region.
We recommend the paragliding flight, you will be dazzled by the landscape so beautiful and varied, breathtaking view of the Chillon Castle, the Vaud Riviera and Lake Geneva. 
One of the most beautiful paragliding flights in French-speaking Switzerland.
After just a few steps to take off, we can adapt the flight according to what you have come for.
Whether you are a great contemplative, an adventurer, a flyer, a sweet dreamer, a child or already a grandparent, paragliding can take you to the playground of your dreams.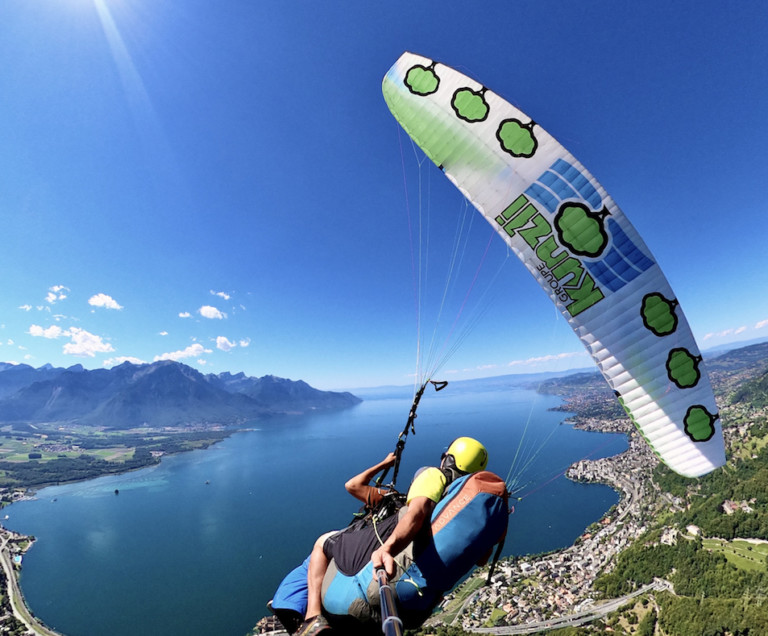 Take-off:     Sonchaux   1430m / 4700ft
Landing:     Villeneuve      375m / 1230ft
Elevation:                         1055m / 3470ft
Flight duration:  15-20 minutes (depending on weather conditions)
Total duration *:  1h15 minutes
* Including, climb to the take-off and the paragliding flight  20 minutes
Meeting point: Villeneuve VD Switzerland
Price:
CHF 190.- Flight from Sonchaux
CHF 170.- Student on presentation of the card
CHF 150.- Child aged 5-16
CHF 40.- Photos and films options 
Included:
– Transport to the take off site
– Equipment Flight
– Certificate 
Excluded:
– Photos & video CHF 40.-
Do not forget to bring
– Windproof jacket
– Comfortable shoes
– Sunglasses
CHF 190.- Flight from Sonchaux
CHF 170.- Student on presentation of the card
CHF 150.- Child aged 5-16
CHF 40.- Photos and films options
The two-seater paraglider for whom?
– No special physical skills required
– From 5 to 99 years old and from 20 to 120 kg
– Children from 5 years old
– There is no vertigo, because you have no contact with the ground
Meeting & progress of the tandem paragliding flight
Conviviality, security, personalized service
..... Come and live a unique Xperience .....
Why a tandem paragliding flight?
A tandem paragliding flight is a unique and powerful experience. Take your first flight with a paraglider and discover the Lake Geneva region as you have never seen it before. Fly 1000 meters above Lake Geneva.
Offer a tandem paragliding flight! Gift voucher for paragliding flight.
Why paragliding in Villeneuve?
The Villeneuve region (paragliding flight in summer) is a region with an exceptional panorama. With a naturally sunny climate and benefiting from a micro-climate specific to the Montreux region.
In flight, you also have an exceptional view of Lavaux, a UNESCO World Heritage Site, as well as of Chillon Castle.
A MOB day and a tandem paragliding flight?
Take a MOB & paragliding day (Montreux-Bernese Oberland – Pays d'Enhaut train) with a paragliding stop. 10 minutes by bus from Montreux separate you from the meeting point at the station square in Villeneuve. Our pilots pick you up directly from the train station / bus stop to take you to the flight site. And you will discover the region from a tandem paraglider.