Welcome to Montreux / Villeneuve
Your tandem paragliding experience
Tandem paragliding flight over Lake Geneva and the Vaud Riviera, between Montreux and Villeneuve, with a flight over the Château de Chillon.
The experience is unforgettable and the view from takeoff is totally unique in the region.
Don't wait any longer and come and try the tandem paragliding experience in Villeneuve!
Fabien Maillard has been a paraglider for over 20 years, an FSVL/OFAC paraglider instructor for over 15 years and a member of the Swiss Paragliding Flight Federation.
Making you experience the paragliding flight that suits you in safety is our passion
Montreux, Villeneuve Paragliding
Professionalism, Experience, Friendliness
/ Fly-Xperience Sàrl
Tandem paragliding flight
Tandem paragliding flight over Lake Geneva and the Vaud Riviera, between Montreux and Villeneuve.
An unmissable experience
Places available & Easy reservations.
Adult: CHF 190.-
Student: CHF 170.-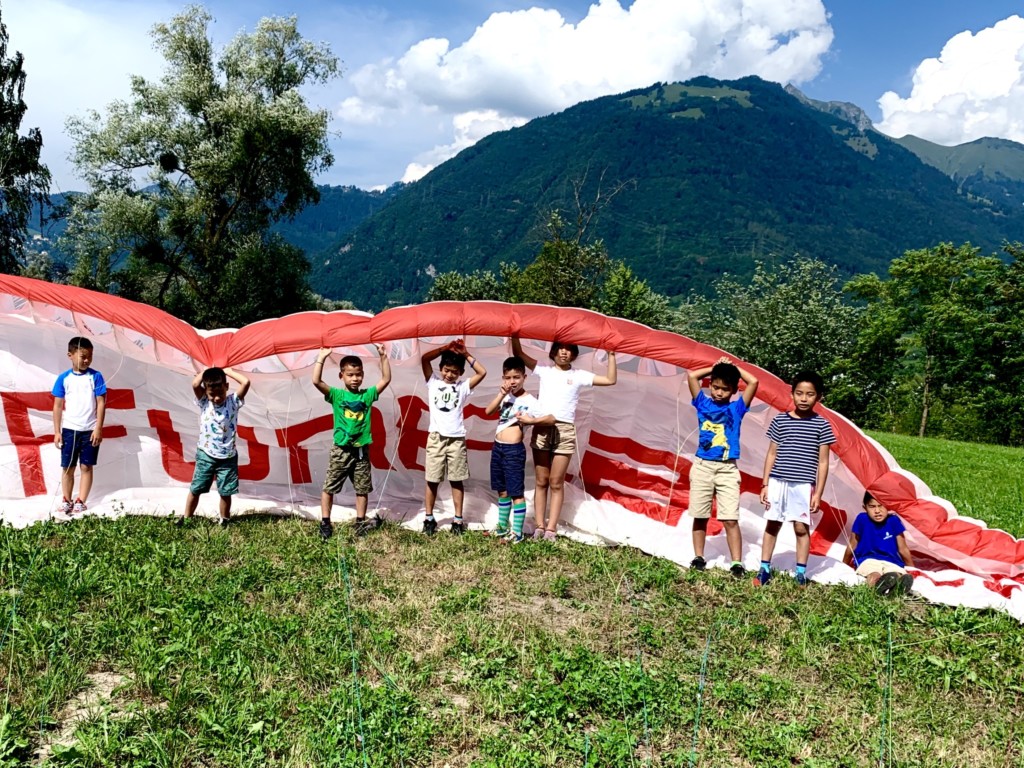 Family price
Children from 5 to 16 years old can take advantage of the reduced prices for paragliding flights and live this experience with an attentive and professional team and equipment suitable for small sizes.
Children: CHF 150.-
 Team Building 
– Groups
– Company exits
– Bachelorette parties
– Bachelor parties
– Family outings
From 6 people:
CHF 170.- / person

Ask a offer:
info@fly-xperience.com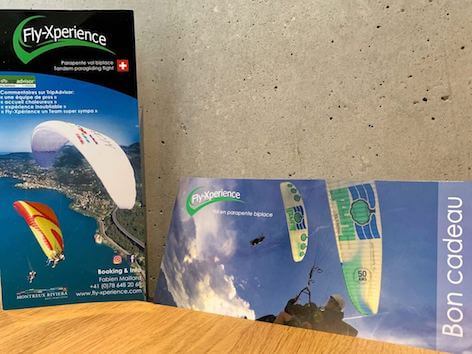 Birthday, wedding, Valentine's Day, Christmas or just a magical attention.
A gift voucher in paragliding a fun and original idea
Your ideal gift voucher in a few clicks! Receive the voucher instantly by email
TWINT, Credit card, PayPal
Adult: CHF 190.-
Student: CHF 170.-
Children: CHF 150.-
New at Fly-Xperience
Caméra 360°
360 ° animated photos and super panorama photos.
After your tandem paragliding flight, view with your pilot the images taken with our new GroPro Max 360 ° animated and panoramic photo camera to review and share your flight with your friends and family.
Unusual selfies.
The images will be downloaded directly to your phone.
Create your own animation with the THETAZ + app.
The pilot can explain the different features to you with our 360 ° option.


Gallery
Follow us on Instagram
Discover magnificent pictures in a tandem paraglider.
Informations, paragliding Montreux
Fly-Xperience
Some information on Fly-Xperience - Tandem paragliding flight Villeneuve
Verbier tandem paragliding flight
Verbier paragliding flight
CHF 160.- Tandem paraglider flight
CHF 40.-   Photos and videos
In winter, the aerology is also favorable for paragliding, paragliding in the Bagne Valley in Verbier is open from December to April with Fly-Xperience
This winter flight allows the greatest number of people to discover the paragliding activity, the take-off and landing phases are done on skis or on foot.
Flight time:        15-20 minutes
Meeting point:  Les Ruinettes 2,200m above sea level
Landing:              Le Châble 820m
Practical info: Can be done on foot, on skis, on snow (no level required)
Included
– The equipment necessary for the practice
– Supervision by our FSVL qualified pilot
– Flight certificate. key ring "I DID IT"
Not included
– Transport to the take-off location at Les Ruinettes (Verbier cabin)
– Photos and video CHF 40.-
Materials to take
You are on skis
– Take-off will be on skis, we take care of your poles, etc.
You are on foot
– Warm and comfortable walking shoes
– Warm clothes, gloves, scarf
– Sunglasses
Paragliding Villeneuve, Montreux, Verbier
The 2022 tandem paragliding season is magical, the conditions are good'onglet
Your satisfaction, our priority
Testimonials
A big thank you to our customers
WOOOOW
Too great a superb experience and the instructors are at the top, a real pleasure to share with family or couples. what I plan to do. I highly recommend this tandem paragliding flight
SO FUNNY!
It was a fantastic experience. We went paragliding just before peak season so were able to book last minute. Booking was really easy. We met the driver / instructors at the station which also helped make this experience an incredibly smooth experience. The flight was exceptional. My friend and I were able to take off at the same time and float in the air together. We had a blast. I highly recommend using Fly – Experience for paragliding!
FANTASTIC
My sister and I are paragliding for the first time in & nbsp; it was amazing. The view during our trip was breathtaking. We felt safe and comfortable while watching the plane. I cannot recommend this hotel enough to anyone spending a few days (or even later) in Switzerland.
MONTREUX JAZZ FESTIVAL SUPPLEMENTS
This paragliding experience was great. The pilots and the group were exceptional. The ride was wonderful. I had no problem finding them. Was very easy on Google Maps. Just don't look for an office. They have a trailer which is in an open field behind the main road. Easy to use with the Montreux bus system.
01
Paragliding star, "JB" specializes in proximity flight, close to the ground and natural obstacles or those brought by the hand of man.
02
Take advantage of this end of the year to take advantage of an offer !!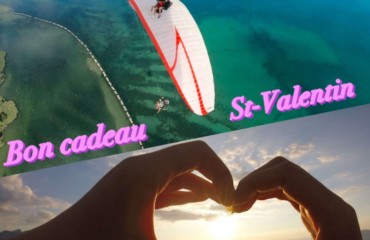 03
A personalized gift to make it an unforgettable moment for Valentine's Day.